Piecework Magazine tempts me with a
Crochet Sampler cover. August 2010 issue.
I love the idea of having a crochet sampler book. Sometimes I head over to ebay in search of one, crafted by someone who had shared the same passion for crochet. But, alas, it seems, I am not alone in wanting to own a piece of crochet's history -- I am usually outbid at staggering prices well out of my reach.
I see that I have two options: I could craft one myself, which is not a bad idea. Perhaps this is why I drool all over magazine articles about stitch sampler books such as the 2010 issue of Piecework Magazine pictured on the right.
My other option is that I can scan bits and pieces of finished projects featuring stitch patterns I find alluring, tuck them into a virtual folder, and eventually craft a digital version of a stitch sampler booklet. Oh, I'm liking the way this sounds! And, honestly, this is what I've been doing each time I purchase an item that has a bit of crochet on it that I like!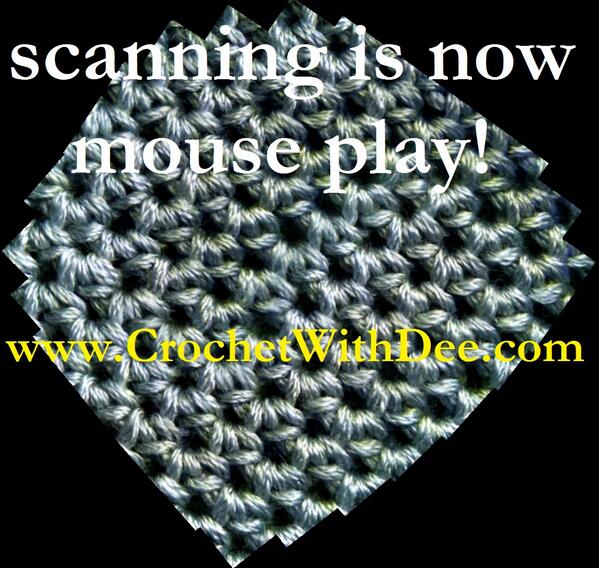 Crochet Sampler Dreams go Digital;
pictured is a sample scan of some stitch work I did on
a Chemo Cap.
This past December, while out shopping with the family, I discovered a sweet little gadget. The sales associate was quick to point out that there would no longer be a need for me to turn on my all-in-one-printer, wait for it to warm up, scan it into my computer, rename the file, and then edit it. No. This little gadget fit right into the palm of my hand and could easily scan bits and pieces, as well as full pages ... whatever he said after "bits and pieces" was lost to me. He had said, "
Bits and pieces
." Would it, could it, scan crochet and knit fabrics? I asked. He didn't know. I pulled out my gloves out of my coat pocket, laid it on the counter and moved the mouse over them. It worked!! Ohhhh, I so wanted to purchase this little mouse right there and then. But I didn't. Instead I grabbed my Santa's hand and pointed, and said, in direct words, "Me. Want!!" I don't think Santa took good notes last year because it wasn't under the tree. Trust me, I LOOKED!!
Moving the story along, I purchased the sweet little gadget this week -- and mind you not at the December retail ($99), but rather at the April sales price of just $38. That's a whole'lotta savings I can use to enhance my yarn stash!
One of, if not the best reason, I really love my new toy, is because with the stitches scanned, I can zoom right into to the stitch work I want to study. It doesn't have to be actual stitch work I've already completed. It can also be a picture of a project from a publication, that perhaps I want to see more of -- perhaps on how it was constructed, or to help clarify written stitch instructions. I'm so excited to add this product to my "tool belt." :)